---
So far in October, I've received 5 emails and 1 voice mail trying to get me to apply for a Portland Five Star Wealth Manager award.
So big deal. Why am I blogging about it?
Because I think this is just another example of the disease of dubious awards and bogus credentials that seem to plague the financial industry.
Some will think "McClanahan, you're just howling at the moon on this." But it's hard for folks to drill-down to the truth of what's actually important, rigorous, and authentic in the financial industry vs. what's low-hurdle, promotional baloney. So I sometimes feel compelled to let you know when you should have your skeptical antennae up.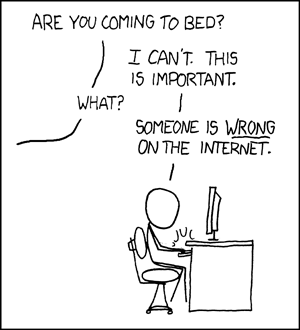 Source: xkcd. Creative Commons Attribution-NonCommercial 2.5 License
So here we go....
The Five Star Professional program is run by Crescendo Business Services, LLC and operates in major metro areas nationwide. As far as I can tell, it's a perfectly legal operation.
Each year, they grant Five Star awards to "wealth managers," investment professionals, real estate agents, mortgage professionals, and home/auto insurance agents. These award recipients must meet certain eligibility and selection criteria. Five Star has done a pretty good job in laying out evaluation steps, but it's a low hurdle and measures the wrong things.
Now, who wouldn't want a Five Star award?
When you think of Five Star hotels, what comes to mind? Quality, consistency, and excellence. And that same Five Star aura gets conferred on these professionals regardless if they're truly excellent in serving and advising their clients.
Why does Five Star award this recognition?
This is important: the end game is to sell advertising and promotional products. They created this program as a feeder to sell local magazine advertising (Portland Monthly magazine, for example) to the same Five Star professionals that they just christened.
Five Star's research and selection process appears well structured, but it's worth drilling into the details.
Here's what it looks like for Wealth Managers:
Eligibility Criteria – Required

1. Credentialed as an investment adviser representative or a
registered investment adviser.
2. Actively employed as a registered investment adviser
representative or as a principal of a registered investment
adviser firm for a minimum of five years.
3. Favorable regulatory and complaint history review.
4. Fulfilled their firm review based on internal firm standards.
5. Accepting new clients.

Evaluation Criteria – Considered
6. One-year client retention rate.
7. Five-year client retention rate.
8. Non-institutional discretionary and/or nondiscretionary
client assets administered.
9. Number of client households served.
10. Education and professional designations.
The required Eligibility Criteria are basically table stakes to even be part of the advisory profession. There's nothing heroic about being licensed and not having pissed-off your clients. These 5 criteria are worthy of no stars. And I tend to agree with Michael Kitces that it's currently too easy to get licensed as a financial advisor. But that's an industry issue, not a Five Star program issue per se.
The Evaluation Criteria which Five Star says they consider appears to all be self-reported by advisors. How does Five Star evaluate accuracy and truthfulness? And what weighting does each item have in their consideration? They don't reveal that. They decide internally after applicants have submitted their data. It appears they may give significant weight to assets under administration, but they don't tell you how much.
What I did find in the 2016 Five Star Wealth Manager Disclosure for Portland were fine print items like these:
"Award does not evaluate quality of services provided to clients."
Of course it doesn't. The client's actual experience would be the most important factor in whether a Wealth Manager is worthy of Five Star award, right? But the only way to evaluate that would be an independent survey of each advisor's clients. That can't happen in this context for a variety of reasons.
"Once awarded, wealth managers may purchase additional profile ad space or promotional products."
As indicated, that's the real reason driving the whole exercise.
"Wealth managers may or may not use discretion in their practice and therefore may not manage their client's assets.
One of my financial industry peeves: "Wealth Managers" who claim to manage client assets but are simply Relationship Managers, with third parties actually handling the portfolio management. Now, there's absolutely nothing wrong with being a Relationship Manager—that's a valuable role in many situations. Just call it what it is and quit deceiving clients by claiming you're doing something that you're not.
**********
Calling out Five Star "Wealth Managers"
So I'm calling out fellow financial planners and investment advisors who've been awarded as Five Star Wealth Managers.
You know in your heart that the selection criteria is elementary and this is no real accomplishment. You know in your heart that a real determinant of "five stars" would measure client service and satisfaction, which is not even possible in this context. You know this is primarily a marketing scheme designed to make you look good in the eyes of clients and prospective clients who just don't know any better.
And you ought to be embarrassed.
If you are the excellent Wealth Manager I hope you are—one truly worthy of five stars—then I challenge you to drop this dubious award. Instead, join the small but growing number of us who strive to advance excellence, rigor, quality, and client service in the financial planning and advisory profession.
Related reading:
Sacramento Real Estate Agent Award Scams (Elizabeth Weintraub, October 15,2013)
Financial Advisors Should Avoid Bogus Awards (FA Magazine, August 25, 2011)
9 Out Of Top 10 CNBC "Fee-Only" Advisory Firms Not Actually Fee-Only? (Michael Kitces, June 3, 2015)
FIVE STAR Award (Blue Water Capital Management, LLC)
Portland 2017 Five Star Wealth Managers (see if your Portland advisor has accepted this dubious award)


---